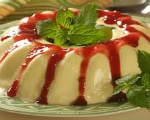 Prep: 3 hr
Cook Time: –
Total: 3 hr
Serving: serves 10-12
Creamy banana mold with a strawberry sauce.
Ingredients
1 (6 ounce) package lemon flavored gelatin
2 cups hot water
1/4 teaspoon salt
2/3 cup sugar
1/2 cup heavy cream
5 bananas
Strawberry Sauce:
1/3 cup butter
1 cup powdered sugar
1 egg white
2/3 cup strawberries
Directions
Stir the gelatin in the hot water until dissolved. Mix in sugar and salt. Refrigerates until cold and syrupy.
Whip the heavy cream just until thick and shiny, not stiff. Fold into the gelatin mix.
Mash bananas with a fork until mushy, stir into gelatin mix immediately. Chill until thickened. Pour into mold and chill until firm. Unmold and drizzle with the strawberry sauce.
To make the sauce, beat the butter and sugar together until creamy. Slowly add in strawberries and egg white. Blend until smooth.