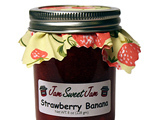 Prep: 30 min
Cook Time: 10 min
Total: 40 min
Serving: Makes about 8 cups
Banana and strawberry jam is a family favorite. Trade in your store-bought variety for this delicious homemade version.
Ingredients
1 cup bananas, chopped
2 quarts fresh strawberries, hulled
1 1-3/4-ounce package regular powdered fruit pectin
1/2 teaspoon butter
7 cups sugar
Directions
Put the strawberries, one batch at a time, into a large pot and mash with a potato masher or a fork. Add the chopped bananas and continue to mash until combined.
Add the pectin and the butter and stir to combine. Place the mixture over high heat and bring to a boil while stirring continuously.
Pour in the sugar and return mixture to a rolling boil, making sure to stir constantly to prevent sticking and to help melt the sugar.
Take the pot off the heat, skim off any foam with a spoon and discard.
Pour the strawberry and banana mixture into sterilized jars, leaving 1/4-inch from the top, add the lids and then place in a boiling-water canner for 5 minutes.
Remove the jars from the canner and place in a cool, dry area for 2 weeks making sure to invert the jars twice a day.