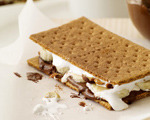 Prep: 10 min
Cook Time: 10 min
Total: 20 min
Serving: 8 servings
Why make a traditional cake or cookies for a kids' party when you can serve up these gooey Nutella, marshmallow and banana s'mores made with graham crackers.
Ingredients
8 wholes graham crackers
1/4 cup Nutella
1/4 cup marshmallow fluff
2 small, ripe bananas sliced 1/4 inch thick
2 tablespoons salted, roasted hazelnuts chopped
4 8-inch squares of parchment paper
4 12-inch squares of heavy-duty aluminum foil
Directions
Prepare a grill on medium heat.
Spread half of the graham crackers with Nutella and the other half with the fluff. Place the banana slices onto the Nutella and then spoon on the chopped hazelnuts. Place the Nutella-banana graham cracker slice and the marshmallow graham cracker slice together to form a sandwich.
Wrap each s'mores in parchment paper and then in aluminum foil. Place on the grill for 10 minutes, turning once halfway through the cooking time, and then serve immediately.