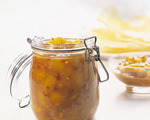 Prep: 10 min
Cook Time: 40 min
Total: 50 min
Serving: Makes about 3/4 cup
Making chutney is simple and it can be prepped and on the stove in just 10 minutes. The result is a flavorful and chunky sauce that can be added to grain and pasta-based salads, topped on meats and seafood, or slathered onto slices of fresh bread.
Ingredients
1/2 small red bell pepper, diced
1/2 small yellow onion, diced
1 tablespoon diced jalapeno, seeds and ribs removed
1 large mango, diced
1 ripe banana, sliced into 1/4-inch rounds
1/4 cup sugar
1/4 cup cider vinegar
1 1/2 teaspoons grated fresh ginger
1-1/2 teaspoons crushed garlic
1/2 cup mango or orange juice
1/2 teaspoon salt
1/4 teaspoon freshly ground black pepper
Directions
Place the bell pepper, onion, jalapeno, mango, banana, sugar, cider vinegar, ginger, garlic, mango juice, salt and pepper into a medium saucepan over medium heat. Bring the mixture to a simmer and cook for 40 minutes, stirring occasionally. Remove the pan from the heat, allow the chutney to cool slightly and then transfer to a bowl and serve.