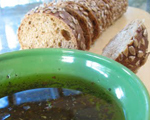 Prep: 10 min
Cook Time: 45 min
Total: 55 min
Serving: Makes about 1-3/4 cup
Serve this dipping oil with fresh country bread and a side of Greek Kalamata olives for a simple yet delicious appetizer with drinks.
Ingredients
25 cloves garlic, peeled
2 tablespoons extra-virgin olive oil and 1 cup olive oil
1/2 cup balsamic vinegar
2-1/2 teaspoons minced fresh rosemary
Sea salt and freshly ground black pepper
Directions
Preheat the oven to 350 degrees.
Place the garlic cloves on a sheet of aluminum foil and thoroughly cover with the 2 tablespoons of olive oil and a sprinkle of salt and pepper. Close foil around garlic and place in oven for 45 minutes.
Transfer the garlic to a food processor and process with the vinegar, rosemary and a sprinkle of salt and pepper until smooth.
With the machine on, slowly add the 1 cup of olive oil into the food processor through the chute.
Empty into a dipping bowl and serve.