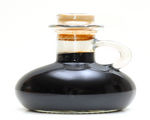 Prep: 1 min
Cook Time: 8 min
Total: 9 min
Serving: 6
If you love the piquant flavor of balsamic vinegar, this syrup will leave you starry-eyed. I found this remarkable and simple one-ingredient recipe in Sally Schneider's A New Way To Cook. A drizzle of this concentrated sauce livens any dish from meats to sandwiches to fresh fruit. Purchase a 16.9 ounce bottle of supermarket balsamic and yield a ½ cup of surreal flavor for which a little goes a long way.
Ingredients
16.9 ounce bottle of balsamic vinegar (or two cups)
Directions
Pour vinegar into a heavy medium-sized saucepan and bring to a boil over medium heat.
Boil until vinegar has reduced to about ½ cup.
Watch for big shiny bubbles and immediately remove from heat to avoid burnt syrup.
If syrup gets too thick as it cools, add 1 to 2 tablespoons of water and slowly reheat.
Store indefinitely in a tightly closed jar at room temperature.
And remember that a little drizzle goes a long way.