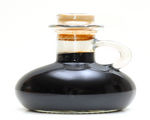 Prep: 15 min
Cook Time: 10 min
Total: 25 min
Serving: 4
The marriage of balsamic, rosemary, and garlic to succulent red meat is a match made in heaven. A deceivingly rich sauce, made from the flavorful marinade, pairs well with the steak, a baked potato and a side of lightly cooked vegetables sprinkled with finely chopped fresh parsley.
Ingredients
4 (4 ounce) slices of beef tenderloin or filet mignon
Marinade
½ cup balsamic vinegar
1 cup beef broth
2 tablespoons olive oil
3 fresh rosemary sprigs
½ cup minced onion
2 garlic cloves, minced
¼ teaspoon salt
¼ teaspoon black pepper
1 tablespoon cornstarch.
Directions
Whisk together all the ingredients for the marinade except the cornstarch in a small bowl until combined:
Place the steaks between two pieces of plastic wrap and pound lightly with the flat side of a meat tenderizer or mallet until steaks are a ½ inch thick.
Pour the balsamic marinade in a glass dish or a ziplock bag and add the steak.
Coat well with marinade and refrigerate for 30 minutes or up to two hours.
Heat a cast-iron or heavy skillet over medium heat until hot.
Sear steaks in the skillet for about 2 minutes per side or until browned on both sides and pink in the center (medium rare).
Remove from heat, tent with foil and set aside while making sauce.
For Sauce
Make an extra batch of marinade for sauce or use marinade from the beef (mixture will be boiled, killing potential bacteria).
Allow a fresh batch to develop its flavor by letting it sit at least 30 minutes and up to overnight.
When ready to make sauce, strain marinade and discard solids.
In a small bowl, whisk together ¼ cup marinade and 1 tablespoon of cornstarch.
Pour remaining marinade into skillet used to cook meat.
Bring to a boil over medium-high heat and cook for 5 minutes.
Stir in dissolved cornstarch mixture and bring to a boil, stirring often, cooking 1 minute or until slightly thickened.
Remove from heat.
Serve steak warm drizzled with sauce.