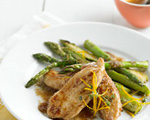 Prep: 10 min
Cook Time: 20 min
Total: 30 min
Serving: 4 Servings
These sweet and savory balsamic-glazed chicken tenders will easily become a family favorite. Serve with a side of steamed asparagus and garnish with some finely shredded orange peel.
Ingredients
1 small orange juiced
Peel of 1 small orange, finely shredded
2/3 cup cinnamon applesauce
1/4 cup balsamic vinegar
1/2 teaspoon ground cardamom or 1/4 teaspoon ground nutmeg
1 pound chicken tenders
2 teaspoons olive oil
Salt and freshly ground black pepper
Directions
Place the orange juice, applesauce, vinegar, cardamom and a few pinches of salt and freshly ground pepper into a small saucepan and bring to a boil.
Once the mixture begins to boil, reduce the heat to low and cook for 10 minutes. Remove from heat, cover and set aside.
Sprinkle the chicken tenders on both sides with salt and pepper and then place in a large skillet coated with the olive oil. Brown the chicken over medium-high heat for 4 minutes then add 1/2 cup of the orange juice mixture to the pan and cook for an additional 4 minutes.
Place the chicken tenders onto serving plates, spoon on the remaining orange sauce and then garnish with the finely shredded peel. Serve immediately.