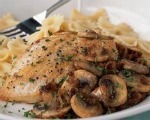 Prep: 15 min
Cook Time: 10 min
Total: 25 min
Serving: Serves 4 people
Simple, elegant and delicious, Balsamic Chicken with Mushrooms & Sun-dried Tomatoes takes an ordinary meal to extraordinary levels.
Ingredients
1 pound boneless, skinless chicken breasts (4, 4-ounce pieces)
2 cups small mushrooms, halved
2 teaspoons vegetable oil
3 tablespoons balsamic vinegar
2 teaspoons Dijon mustard
3 tablespoons chopped sun-dried tomatoes
1/3 cup low-sodium chicken broth
1 large garlic clove, crushed
1/4 teaspoon dried thyme
Directions
Use a medium-sized bowl to combine 2 tablespoons of vinegar, the mustard and garlic. Add the chicken and coat well on both sides.
Heat 1 teaspoon of the oil in a large non-stick skillet over medium heat. Add the chicken and marinade to the skillet and saute until the chicken is cooked, about 3 minutes on each side. Transfer the chicken to a warm plate and set aside.
Add the remaining oil to the skillet and saute the mushrooms and sun-dried tomatoes for about a minute. Add the broth, thyme and remaining vinegar. Cook, stirring, until the mushrooms turn a dark brown color (about another 2 minutes).
Serve the chicken topped with the mushrooms and tomatoes.