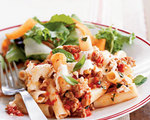 Prep: 15 min
Cook Time: 25 min
Total: 40 min
Serving: 8
How can you resist baked ziti? This healthier version features ground turkey instead of sausage and will surely become a favorite.
Ingredients
1 (1-pound) package uncooked ziti
1 pound ground turkey
1 cup white onion, chopped
2 (14.5-ounce) cans petite-diced tomatoes, undrained
1 tablespoon tomato paste
1/2 teaspoon red pepper flakes
1/4 teaspoon black pepper
1/4 teaspoon salt
2 garlic cloves, minced
1/4 cup chopped fresh basil
1 cup shredded fresh part-skim mozzarella cheese
1 cup grated fresh Parmesan cheese
Directions
Preheat oven to 350 F. Cook pasta according to package directions; drain and set aside.
In a large pan, cook ground turkey with onion and garlic. Add the tomato paste, salt, pepper, pepper flakes and tomatoes, and bring to a boil. Cover, reduce heat, and simmer 10 minutes, stirring occasionally.
Combine cooked pasta, turkey mixture, and basil. Place half of the pasta mixture in a 4-quart casserole coated with cooking spray. Top with half of mozzarella and half of Parmesan. Repeat layers. Bake for 25 minutes or until bubbly.