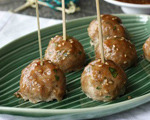 Prep: 15 min
Cook Time: 20 min
Total: 35 min
Serving: 5 Servings
Turkey meatballs are baked in the oven and then smothered in a sweet and savory teriyaki sauce. Serve them as hot appetizers, or pair the meatballs with rice and a salad for a delicious dinner.
Ingredients
FOR THE SAUCE:
1/3 cups Rice Vinegar
1/4 cups Packed Brown Sugar
1/3 cups Water
1/4 cups Soy Sauce
1/4 cups Canola Oil
2 teaspoons Minced Fresh Ginger
2 cloves Garlic, Minced
1 Tablespoon All-purpose Flour
2 teaspoons Toasted Sesame Seeds
FOR THE MEATBALLS:
1 pound ground beef
1/2 pound ground pork
1 cup freshly grated Parmesan cheese
1 cup dried bread crumbs
2 eggs
2 cloves garlic, minced
1 teaspoon dried parsley flakes
1 teaspoon salt
1/2 teaspoon freshly ground black pepper
1/4 teaspoon oregano
1/2 teaspoon fennel seeds
1 tablespoon olive oil plus some for greasing
1 pound spaghetti
Directions
Preheat your oven to 350 degrees, line a baking sheet with aluminum foil and then brush with olive oil.
Place the turkey, grated onion, garlic, ginger, parsley, five-spice powder, egg, breadcrumbs, salt and pepper into a large bowl, and mix together until thoroughly combined. Shape the mixture into meatballs and then place on the prepared baking sheet. Bake the meatballs in the oven for 15 minutes.
In the meantime, place the rice vinegar, brown sugar, water, soy sauce, 1/4 cup canola oil, ginger, garlic, flour, and sesame seeds into a saucepan over medium heat, and whisk well to combine. Bring the sauce to a simmer and cook for 10 minutes.
Brush the meatballs with the teriyaki sauce and then place back into the oven for 5 minutes. Serve the meatballs with any remaining sauce.