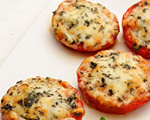 Prep: 15 min
Cook Time: 15 min
Total: 30 min
Serving: 8 servings
Use fresh, seasonal tomatoes for this simple and delicious appetizer or side dish.
Ingredients
4 tomatoes
1/4 cup freshly grated parmesan cheese
1 teaspoon chopped fresh oregano
1/4 teaspoon sea salt
Freshly ground pepper to taste
4 tablespoons olive oil
3 garlic cloves, minced
Directions
Preheat your oven to 450 degrees.
Place the olive oil and the garlic cloves into small bowl and stir to combine.
Cut the tomatoes horizontally and then place, cut side up, onto a baking sheet.
Sprinkle the tomato halves with parmesan, oregano, salt and pepper, and then evenly drizzle with the olive oil and garlic mixture.
Place the tomatoes in the oven for 15 minutes and then serve.