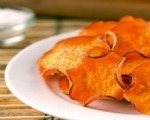 Prep: 10 min
Cook Time: 25 min
Total: 35 min
Serving: Serves 4 people
Baked sweet potato Parmesan chips are perfect for mid-day snacks or when you're traveling.
Ingredients
2 medium-sized sweet potatoes, scrubbed and peeled, sliced about 1/8-inch thick (use a mandolin slicer for even results)
2 tablespoons olive oil, divided
1/4 cup fresh grated Parmesan cheese
1 teaspoon sea salt, divided
1/2 teaspoon ground black pepper
Directions
Preheat your oven to 400 degrees F. Add the potato slices to a large bowl and drizzle with the olive oil. Sprinkle the salt and pepper over the slices and toss them gently to ensure they're evenly coated.
Put the potato slices in a single row on two baking sheets. Drizzle with a bit more olive oil and sprinkle with the Parmesan cheese.
Bake for about 20-25 minutes, or until the slices are golden and crisp. Be sure to turn them a few times while they're cooking. When they're finished cooking, remove from the oven and sprinkle lightly with a bit more salt and pepper. Cool before serving.