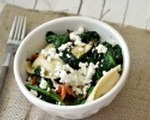 Prep: 5 min
Cook Time: 10 min
Total: 15 min
Serving: Serves about 4 people
If you're looking for an easy and delicious way to get your husbands to eat their vegetables, this is it! Since the spinach is cooked in bacon grease, you get that amazing flavor of bacon, but in vegetable form! A quick stove top ravioli with spinach, bacon and goat cheese, this savory and decadent dish is perfect for busy weeknights. If your kids won't eat goat cheese, try another soft cheese, like mozzarella instead!
Ingredients
1 bag frozen cheese ravioli
4 cups fresh spinach
8 pieces of bacon
1/3 cup goat cheese (or fresh mozzarella)
Liberal dashes of salt and pepper
Directions
Prepare the ravioli according to the package instructions. Rinse and set aside.
Heat a medium pan over medium-high heat. Add the bacon and cook until crispy, about 5 - 6 minutes. Remove the bacon from the pan.
Add the spinach to the bacon grease and cook it until it is just wilted, about 3 - 4 minutes.
Mix the spinach with the ravioli and top with the bacon and cheese. Serve it warm!