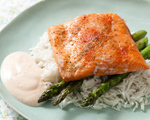 Prep: 10 min
Cook Time: 10 min
Total: 20 min
Serving: 4 Servings
This healthy meal is a quick and delicious dish that can be prepared and on the table in less than 20 minutes. Use fresh asparagus when in season.
Ingredients
1/2 teaspoon ground cumin
1/2 teaspoon chili powder
2 teaspoons Lawry's Season salt
Freshly ground pepper
3-1/2 teaspoons olive oil
4 5-6 ounce salmon filets
12 small asparagus (bottoms trimmed)
1/2 cup plain Greek yogurt
2 teaspoons lemon juice
1 cups basmati rice
Directions
Cook the basmati rice according to package directions and preheat the oven broiler.
In the meantime, place the cumin, chili powder, Lawry's Season salt and a few grinds of pepper into a small bowl and mix to combine.
Grease a baking sheet with 1 teaspoon of olive oil and then place the salmon fillets and the asparagus on top. Brush the salmon and asparagus with the remaining oil and then sprinkle the fish with half of the cumin mixture.
Place the baking sheet in the oven and cook the fish and asparagus for 10 minutes, or until fish flakes when lightly touched with a fork.
While the fish is cooking, put the yogurt and the lemon juice in a bowl, along with the remaining cumin mixture, and mix thoroughly to blend.
Divide the rice between 4 dinner plates and then top with the salmon, asparagus and a dollop of the yogurt sauce. Serve immediately.