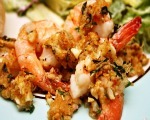 Prep: 20 min
Cook Time: 25 min
Total: 45 min
Serving: Serves 4 people
Baked shrimp scampi with asparagus is a easy to make and is delicious for a special meal. Serve with rice and fresh vegetables.
Ingredients
1 cup uncooked white rice
1 pound fresh or frozen cleaned shrimp (thawed if frozen)
1 (9-ounce) package frozen asparagus, cut into small pieces and thawed
2 tablespoons unsalted butter
1/2 teaspoon salt
4 cloves garlic, chopped
2 tablespoons seasoned bread crumbs
1/2 cup dry white wine
1 tablespoon fresh lemon juice
1 teaspoon cornstarch
Black pepper to taste
Nonstick cooking spray
Directions
Preheat your oven to 375 degrees F. Spray a medium-sized baking dish (about 2 quarts) with the nonstick cooking spray.
In a medium-sized saucepan over high heat, combine the rice with 2-1/4 cups of water and a 1/4 teaspoon of the salt. Bring it to a boil. Once boiling, reduce the heat and cover the pan. Cook for about 20 minutes. Add the asparagus to the pan, cover it, remove it from the heat and set it aside.
In a medium-sized saucepan, melt the butter over medium heat. Add the garlic and cook it, stirring constantly, for about 2 minutes. Meanwhile, in a separate bowl, whisk the wine, lemon juice and cornstarch. Add it to the saucepan and cook for about 2 minutes until the mixture is thick and bubbly. Stir in the shrimp, remaining 1/4 teaspoon of salt and a dash of the pepper. Remove it from the heat.
Serve the shrimp bake in bake-proof, individual bowls. Once in the bowls, sprinkle each with about 1/2 teaspoon of the breadcrumbs and spray the top with a bit of the cooking spray. Place the bowls on a baking sheet and bake for about 15-20 minutes, or until the shrimp is cooked through.