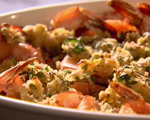 Prep: 15 min
Cook Time: 10 min
Total: 25 min
Serving: 4 Servings
This dish could work as a main meal or a side dish due to its light texture yet bold taste. Incredibly easy to make, it is not loaded with butter like most traditional shrimp recipes. Instead, it's brimming with the right balance of flavors and ingredients
Ingredients
3 tablespoons breadcrumbs
1 lb uncooked shrimp, peeled and de-veined
1/4 cup fresh squeezed lemon juice
2 tablespoon butter, melted
4 garlic cloves, minced
1/4 cup minced shallots
1 teaspoon lemon zest
1 teaspoon salt
1/4 teaspoon black pepper
1/4 teaspoon crushed red pepper flakes
2 tablespoon parmesan cheese
2 tablespoon parsley, finely chopped
Directions
Preheat oven to 425 degrees.
Spray a 13x9-inch baking dish with cooking spray and dust with breadcrumbs. Lay shrimp evenly in the baking dish.
With a whisk, mix the next 8 ingredients in a medium-sized bowl and then pour over shrimp.
Sprinkle the Parmesan cheese over the shrimp and bake, uncovered, until shrimp are cooked through; 8-10 minutes.
Lastly, add parsley over the shrimp and serve immediately.