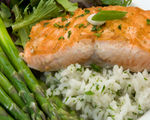 Prep: 15 min
Cook Time: 10 min
Total: 25 min
Serving: 1
Savory salmon and vegetables - perfect when you need a simple but delicious single-serving meal.
Ingredients
1 (8-ounce) salmon fillet or steak
1 teaspoon olive oil
2 tablespoons fresh mint, chopped
1/2 teaspoon oregano
1 small garlic clove, chopped
Salt and pepper
1 small scallion, chopped
1 cup mixed vegetables
Directions
Preheat oven to 425 degrees F. Lay salmon in an oven proof dish and rub with 1/4 teaspoon olive oil.
Combine mint, oregano, garlic, 1/4 teaspoon salt and 1/8 teaspoon pepper. Rub half the mint mixture over one side of salmon and bake 10 minutes or until opaque.
Meanwhile, in a skillet, heat 3/4 teaspoons of oil over medium heat and add scallions, vegetables, and the rest of the mint mixture.
Cook a few minutes or until vegetables are tender. Season with salt and pepper and serve with salmon.