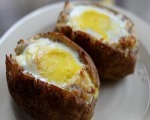 Prep: 10 min
Cook Time: 1 hr
Total: 1 hr 10 min
Serving: Serves 4 people
Great for a special breakfast or brunch, Baked Potato with Eggs combines typical breakfast foods for a unique treat. Garnish with sour cream and chives.
Ingredients
2 baking potatoes
2 tablespoons of butter
1/4 cup of grated Parmesan cheese
2 precooked sausages, diced
4 large eggs
Sour cream for garnish
Fresh chives for garnish
Directions
Heat oven to 400 degrees. Scrub the potatoes and pierce them with a fork.
Bake the potatoes for about 45 minutes, or until they are tender.
When finished, cut the potatoes in half. Scoop out the soft potatoes into a bowl and stir in the butter and Parmesan cheese.
Add the sausage to the mixture.
Spoon the mixture into the potato halves, leaving a small hollow spot in the center of each.
Break one egg into each of the hollows. Arrange the potatoes on a baking sheet and cook 10-15 minutes or until the eggs are set.
Garnish with sour cream and chives.