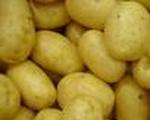 Prep: 25 min
Cook Time: 1 hr 20 min
Total: 1 hr 45 min
Serving: 8
Baked Potato Torte is a great party dish.
Ingredients
3 medium onions, diced
1 clove garlic, minced
2 stalks celery, sliced thin
3 sprigs parsley, chopped
1 large carrot, grated
1 stick margarine
1/4 cup olive oil
5 pounds potatoes, cooked and mashed
1 cup Parmesan cheese, grated
3 eggs
salt and pepper to taste
bread crumbs
Directions
Heat margarine and oil in skillet and saute the first five ingredients until soft, about 12 minutes.
Add sauteed vegetables to mashed potatoes. Add cheese, eggs and salt and pepper to taste. Mix well.
Butter a 9 by 13 inch baking pan and sprinkle with bread crumbs to coat.
Spread the potato mixture in pan and sprinkle with additional bread crumbs. Bake at 350 degrees F for 1 hour or until top is crusty brown. Serve hot.