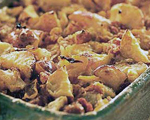 Prep: 15 min
Cook Time: 50 min
Total: 1 hr 5 min
Serving: 10 Servings
Enjoy this side dish of baked potatoes made with two different kinds of cheese. You can substitute the sour cream with plain Greek-style yogurt.
Ingredients
7 cups coarsely chopped small red potatoes
1 cup chopped onion
1 8-ounce carton dairy sour cream
1 cup (4 oz.) shredded Monterey Jack cheese
1 cup (4 oz.) shredded sharp cheddar cheese
1/2 teaspoon salt
1/2 teaspoon ground red pepper
2 medium tomatoes, seeded and chopped
Directions
Place the potatoes and the onion in a large saucepan and add just enough water to cover.
Bring the mixture to a boil, cover, and cook for 15 minutes; drain well and return mixture to the pan.
In the meantime, preheat the oven to 350 degrees.
Add the sour cream, Monterey Jack cheese, cheddar cheese, salt, and red pepper to the potato mixture and stir to combine.
Transfer the mixture to a 2-quart baking dish and place in the oven for 30 minutes. Serve warm.