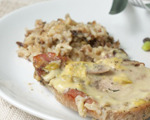 Prep: 5 min
Cook Time: 1 hr 35 min
Total: 1 hr 40 min
Serving: 4 Servings
Enjoy the taste of these baked pork chops cooked with wild rice, tart apple and tomato. Serve with a side of mixed, steamed vegetables tossed in olive oil for a complete meal.
Ingredients
3/4 cup wild rice
1 can condensed onion soup
1/4 cup dry white wine
4 loin pork chops, about 1 1/2 inches thick
2 tablespoons butter plus some to grease pan
Salt and freshly ground pepper
1 tart apple, cored and cut into 4 slices
1 medium tomato, cut into 4 slices
Directions
Preheat your oven to 325 degrees F and grease a casserole baking dish with butter.
Rinse the rice well, drain and then place into the prepared baking dish. Add the condensed soup and wine to the rice and mix well to combine.
Place the butter into a skillet over medium-high heat. Once melted, season the chops with a few pinches of salt and pepper and then place in the pan to brown for 1-1/2 minutes on each side.
Place the browned chops onto the rice mixture, cover the dish and then bake for 1 hour. Remove the pan and top the pork chops with the apple and tomato slices, season with additional salt and pepper, and place back into the oven, uncovered, for 30 minutes. Serve hot.