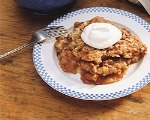 Prep: 10 min
Cook Time: 40 min
Total: 50 min
Serving: Serves 8 people
A super-easy seasonal delight, Baked Pear Crisp is a treat to follow any meal. Serve warm and with ice cream.
Ingredients
4 cups of sliced pears
1 teaspoon of vanilla
1-1/2 cups of granola
3 tablespoons of butter or margarine, softened
Directions
Preheat your oven to 350 degrees. Place sliced pears in a buttered 8-inch baking pan and sprinkle with vanilla.
Combine the granola and butter and sprinkle over the pears.
Bake until the topping is lightly browned and pears are tender (about 40 minutes). Serve with ice cream.