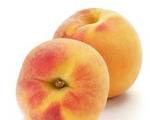 Prep: 15 min
Cook Time: 25 min
Total: 40 min
Serving: 8
Sleepy heads will wake up when they smell Baked Peach French Toast coming out of the oven.
Ingredients
1 loaf French bread slices
1, 3 ounce package cream cheese, softened
1, 29 ounce can peach slices, drained and patted dry
1/4 cup nuts, chopped
3 eggs
1 cup milk
1/3 cup maple-flavored syrup
2 tablespoons butter, melted
1 tablespoon sugar
1 teaspoon vanilla
1 teaspoon cinnamon
Directions
Preheat oven to 400 degrees F. Cut bread into 1 inch thick slices, about 12-14 slices. Spread cream cheese onto both slices. Place bread in a greased 9 by 13 inch baking pan. Top with peach slices. Sprinkle with nuts.
Whisk together remaining ingredients in a medium bowl. Pour egg mixture over bread.
Bake 20-25 minutes or until egg mixture is set.