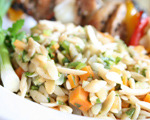 Prep: 10 min
Cook Time: 50 min
Total: 1 hr
Serving: 4 Servings
Make sure to finely dice the vegetables in this dish as they are added raw and baked with the orzo for only 10 minutes. They will retain an enjoyable 'al dente' texture as a result.
Ingredients
1 cup uncooked orzo
1/4 cup butter
2-1/2 cups boiling vegetable or chicken broth
1/2 teaspoon salt
1/4 teaspoon pepper
6 tablespoons minced Italian flat-leaf parsley
6 tablespoons minced carrots
6 tablespoons minced celery
6 tablespoons minced green onions
6 tablespoons slivered almonds, toasted
Directions
Preheat your oven to 350 degrees.
Place the butter into an oven-safe pot over medium heat. Once melted, add the orzo and stir to coat in the butter for 5 minutes, and then slowly add the chicken broth and stir to combine.
Put the lid onto the pot and then place in the oven for 35 minutes. After the allotted time, remove the pot and add the vegetables; stir to combine, and then place back into the oven for an additional 10 minutes.
Serve the orzo topped with the toasted almonds and the parsley.