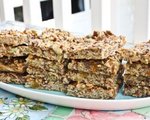 Prep: –
Cook Time: –
Total: –
Serving: 9 Bars
If you're in need of portable whole grains, these are perfect. They are the flavor of good nutrition!
Ingredients
1-1/2 cups rolled oats
1/2 cup chopped walnuts (or any nuts you like)
1/2 cup dried fruit (options: raisins, cranberries, dates, figs)
1/4 cup seeds (options: sunflower, pumpkin, flax, sesame)
1 teaspoon cinnamon
1 teaspoon kosher salt
1-1/4 cups skim milk
1 egg
1 teaspoon vanilla
Directions
Preheat your oven to 350 degrees F.
Mix all of the dry ingredients.
Mix all of the wet ingredients.
Pour the wet ingredients into the dry ingredients and stir to combine.
Pour the mixture into a 9 × 9-inch baking dish, either coated in cooking spray or lined with parchment.
Bake for 40 minutes.
Cut it into nine squares and enjoy.