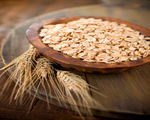 Prep: 15 min
Cook Time: 30 min
Total: 45 min
Serving: 6 People
Baked oatmeal is similar to eating cereal with an oatmeal cookie taste. It is baked in the oven, and while the top layer gets crispy, the bottom layer expands and remains soft. While it doesn't require a topping, a variety of fruits and berries can be added to it before serving.
Ingredients
1-1/2 cups quick-cooking oats
1/2 cup milk
1 egg
3/4 teaspoon salt
1/2 cup sugar
1/4 cup butter, melted
1 teaspoon baking powder
1 teaspoon vanilla
Directions
Preheat oven to 350 degrees.
Mix together all ingredients.
Pour into a greased 9x13 baking pan, spreading mixture evenly.
Bake at 350 degrees for 25-30 minutes or until edges turn golden brown.
Serve in bowls while hot. Add milk.