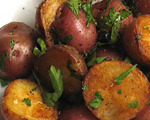 Prep: 10 min
Cook Time: 1 hr 15 min
Total: 1 hr 25 min
Serving: 6 Servings
Red potatoes are sprinkled with fresh basil, shallots, sea salt and freshly ground pepper, drizzled with olive oil and then baked to perfection in this delicious and aromatic vegetarian side dish recipe.
Ingredients
2-1/4 pounds new potatoes
1/4 cup finely chopped shallots
2 tablespoons chopped fresh basil
3-1/2 tablespoons olive oil plus extra to brush pan
Sea salt and freshly ground pepper
Directions
Preheat your oven to 350 degrees and brush an oven pan with olive oil to coat.
Put the potatoes in the pan, sprinkle with the shallots, basil and a few generous pinches of sea salt and freshly ground black pepper. Drizzle the potatoes with the olive oil and then toss well to coat.
Place the pan in the oven and cook the potatoes for 1-1/4 hours, making sure to stir the mixture every 20 minutes. Serve immediately.