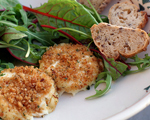 Prep: 14 min
Cook Time: 6 min
Total: 20 min
Serving: 4 Servings
This is a simple yet flavorful salad which can be served as an appetizer salad, or doubled and served as a lunch or supper entrée.
Ingredients
1/2 teaspoon olive oil to grease dish
5 cups mesclun
1 cup packed chopped mixed fresh herbs (parsley, sage, dill, tarragon)
1 cup fine bread crumbs
Salt and pepper
1 teaspoon dried thyme
1/4 cup olive oil
1, 4-ounce log goat cheese
1/4 cup vinaigrette of your choice
Directions
Preheat the oven to 400 degrees and grease a small baking sheet with olive oil or cooking spray.
Place the greens and chopped herbs in a large salad bowl and put in the refrigerator.
In a small, shallow bowl, mix together the breadcrumbs with the thyme and a sprinkle of salt and pepper.
In another shallow bowl, add the breadcrumbs and sprinkle with salt and pepper.
Cut off 4, 1/2-inch slices from the goat cheese log and dip into the olive oil and then dredge in the breadcrumbs. Place on the prepared baking sheet and bake for 6 minutes.
Meanwhile, toss the greens with vinaigrette and divide evenly between 4 plates. Put a piece of baked cheese in the middle of each salad and serve immediately.