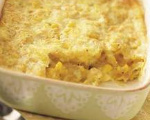 Prep: 15 min
Cook Time: 30 min
Total: 45 min
Serving: 4-6 servings
Old fashioned baked corn.
Ingredients
2 cups corn, cooked
3 tablespoons butter
1 tablespoon onion, chopped
1 tablespoon green pepper
2 tablespoons flour
3/4 cup milk
3 eggs, separated
1/2 teaspoon vinegar
1 teaspoon salt
1/2 teaspoon pepper
4 tablespoons bread crumbs
Directions
Preheat oven to 400 degrees Fahrenheit.
In a skillet, melt the butter and brown the onion and green pepper. Stir in the flour, and gradually add the milk. Mix until thick and creamy.
Stir in the egg yolks, corn, vinegar, salt and pepper. Gently stir in the beaten egg whites. Sprinkle the bread crumbs on top. Bake for 20-30 minutes.