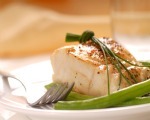 Prep: 20 min
Cook Time: 15 min
Total: 35 min
Serving: Serves 4 people
This is a light and fresh recipe. Baked Cod with Mustard Marinade makes a wonderful dinner served with a side of steamed vegetables. Any firm, white fish fillets can be substituted for cod.
Ingredients
1-1/2 pounds of cod
1/2 cup of smooth or coarse Dijon mustard
1/3 cup of fresh lemon juice
1/2 teaspoon of dried thyme
1-2 teaspoons of prepared horseradish
2 teaspoons of grated lemon peel
1/4 teaspoon of ground black pepper
Directions
Preheat your oven to 400 degrees.
Rinse and dry the fish and place the fillets skin-side down in a lightly oiled baking pan.
Whisk all the remaining ingredients together in a small mixing bowl, or by using a small food processor.
Pour the marinade over the fish, turning the fillets to coat both sides. Set aside in the refrigerator for 20-60 minutes.
Place the baking pan, uncovered, in the oven and bake for 10-15 minutes, or until the fish is tender and flakes with a fork.