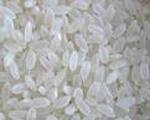 Prep: 15 min
Cook Time: 45 min
Total: 1 hr
Serving: 6
Baked Chicken and Mushroom Risotto is a homey one dish family meal.
Ingredients
3 boneless, skinless chicken breast halves, cut into 1/2 inch strips
8 ounces white button mushrooms, sliced
1 tablespoon plus 1 teaspoon olive oil, divided
1 tablespoon butter
1 medium onion, chopped
2 garlic cloves, pressed
1 1/2 cups Arborio rice
3, 14 1/2 ounce cans, chicken broth, warmed
2 tablespoons fresh thyme leaves
2/3 cup Parmesan cheese, freshly grated
1/2 cup frozen peas
Directions
Preheat oven to 350 degrees F.
Heat 1 tablespoon olive oil in skillet over high heat until hot. Add chicken strips; cook and stir 2 minutes. Add mushrooms; cook and stir 2 minutes. Remove chicken and mushrooms from skillet, leaving juices in skillet; set aside.
Heat remaining 1 teaspoon olive oil and butter in skillet over medium heat until hot. Add onion and garlic. Cook 2-3 minutes or until onion is tender. Add rice; cook and stir 5 minutes. Slowly add warm chicken broth to rice mixture; stir. Return chicken and mushrooms to skillet. Stir in thyme; cover with lid.
Bake, covered, 18 to 20 minutes or until rice is tender (there will be a lot of unabsorbed liquid in skillet). Remove from oven; stir in Parmesan cheese and peas. Cover and let stand 15 minutes or until broth is aborbed. Stir well before serving. Top with additional cheese, if desired.