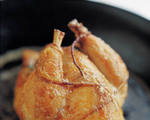 Prep: 5 min
Cook Time: 1 hr 10 min
Total: 1 hr 15 min
Serving: 4
Don't be nervous about making lumpy gravy. This Baked Chicken and Gravy recipe does it all in one pan. Make sure to whip up a bowl of creamy mashed potatoes.
Ingredients
3 to 3 1/2 pound chicken, cut in pieces
1/2 cup flour
1/2 cup melted butter
2/3 cup evaporated milk
1, 10 1/2 ounce can cream of mushroom soup
1 cup grated cheddar cheese
1/2 teaspoon salt
1/8 teaspoon pepper
1/4 pound sliced mushrooms
Directions
Coat chicken pieces with flour.
Pour melted butter in the bottom of a 9 by 13 inch baking dish. Arrange chicken in a single layer, skin side down.
Bake uncovered at 425 degrees F for 30 minutes.
Turn chicken and bake until brown---15-20 minutes or until tender.
Remove from oven and reduce temperature to 325 degrees F. Pour off fat.
In a bowl, combine milk, soup, cheese, salt and pepper. Add mushrooms to chicken. Pour mixture over chicken. Sprinkle with paprika.
Cover pan tightly with foil. Return to oven and bake for 15-20 minutes.