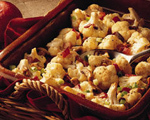 Prep: 10 min
Cook Time: 42 min
Total: 52 min
Serving:
This baked cauliflower and mushroom combination makes a hearty side dish or a delicious vegetarian casserole main meal. Serve with a bottle of Chardonnay or Sauvignon Blanc.
Ingredients
3 cups fresh cauliflower florets (1 pound)
1 cup chopped fresh mushrooms (4 ounces)
1/2 cup chopped red onion
1-1/2 tablespoons olive oil plus for greasing
2 teaspoons fresh lemon juice
2 teaspoons cider vinegar
1/2 teaspoon salt
1/4 teaspoon pepper
2 garlic cloves, finely chopped
1/3 cup chopped green onion
Directions
Preheat the oven to 350 degrees and lightly grease a 9-inch square baking dish with olive oil.
Place the cauliflower, mushrooms, onion, olive oil, lemon juice, vinegar, salt, pepper and garlic into the prepared pan and toss to combine. Spread the mixture in an even layer and then place the pan in the oven.
Bake the cauliflower mixture for 42 minutes, stirring occasionally to ensure even cooking, and then remove from the oven and serve sprinkled with the green onions.