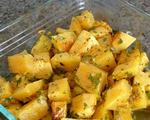 Prep: 10 min
Cook Time: 50 min
Total: 1 hr
Serving: 6 Servings
This butternut squash recipe makes a great side dish and is anything but ordinary.
Ingredients
3 1/2 pounds butternut squash, peeled and cut into 1-inch cubes
2 tablespoons minced fresh parsley
1/2 teaspoon fresh lemon juice
1/2 teaspoon salt
1/2 teaspoon pepper
2 garlic cloves, minced
2 tablespoons olive oil
1/3 cup grated parmesan cheese
Directions
Preheat oven to 400 F. In a large bowl, combine the parsley, olive oil, lemon, garlic, salt and pepper. Add squash and toss to coat evenly.
Transfer mixture to a shallow ungreased baking dish. Bake uncovered for 50-55 minutes or until squash is tender. Sprinkle with parmesan cheese before serving.