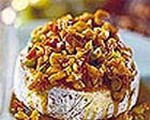 Prep: –
Cook Time: 15 min
Total: 15 min
Serving: Makes 2 rounds.
The rich, nutty flavor of California walnuts complements the velvety texture of the Brie. Serve with crackers, crisp apples wedges and grapes.
Ingredients
1 tablespoon olive oil
1 tablespoon butter
1/2 teaspoon curry powder
1/3 cup diced red pepper
2 tablespoons finely chopped green onion
1 1/2 cups coarsely chopped California walnuts
2 round Brie cheeses
Salt and pepper
Directions
In a large saucepan heat oil, butter, and curry powder over medium heat. Add red pepper and green onion and sauté 2 to 3 minutes; stir in walnuts, cook 1 minute.
Remove from heat and season with salt and pepper. Place Brie in an ovenproof serving dish. Divide walnut mixture evenly and place on top of rounds.
Bake in 350 degree F oven for 10 to 15 minutes, or until cheese just starts to melt.