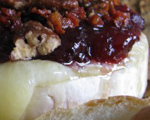 Prep: 10 min
Cook Time: 13 min
Total: 23 min
Serving: Serves 4-6
Brie cheese is delicious on its own, but when it's topped with cranberry sauce, crisp pancetta and buttery spiced pecans it becomes amazing.
Ingredients
1 wheel of brie cheese
1/4 cup cranberry sauce
2 tablespoons chopped pancetta
2 tablespoons crushed spiced pecans
Directions
Preheat your oven to 400 degrees.
Place the chopped pancetta into a small skillet over medium-high heat and cook for about 5 minutes until crispy. Transfer to a paper towel-lined plate to drain and then crumble once cool enough to handle.
Take the brie out of its packaging and place on a baking sheet. Top the brie with the cranberry sauce, cooked pancetta and the spiced pecans. Put the brie in the oven and cook for 8 minutes. Serve immediately.