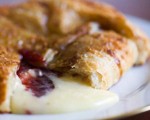 Prep: 1 hr 30 min
Cook Time: 40 min
Total: 2 hr 10 min
Serving: 28 servings
This delicate puff pastry is filled with a delicious filling of brie cheese and chutney. Serve with whole-wheat crackers and a bottle of American Pinot Noir or an Australian Shiraz.
Ingredients
1, 17-1/2-ounce package of frozen puff pastry sheets, thawed
1, 2.2-pound Brie wheel (8-inch diameter)
4 tablespoon sweet fruit chutney, finely chopped
1 large egg yolk
1 tablespoon milk
Directions
Lightly flour a clean working surface and then roll out each of the 2 squares of pastry into 12-inch squares.
Place 1 pastry sheet in a 9-inch pie pan and then top with the Brie wheel.
Evenly spread the chutney on top of the cheese, and then fold the edges up and over to about 1 inch over the top rim of the Brie.
Cut the second pastry sheet into a circle and place over the top part of the cheese. Carefully roll the top and bottom edges of the pastry sheets together and then crimp to seal.
Place the brie in the refrigerator for at least 30 minutes.
In the meantime, preheat the oven to 400 degrees, and place the egg yolk and milk into a bowl. Whisk to combine.
Lightly brush the cheese pastry with the egg wash and then place in the oven for 10 minutes. Reduce the oven temperature to 350 degrees and then bake for an additional 30 minutes until puffy. Let the Brie pastry stand for at least 1 hour before transferring to a plate and serving.