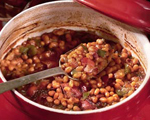 Prep: 10 min
Cook Time: 30 min
Total: 40 min
Serving: Serves 4
A simple yet hearty meal with a lot of substance and flavor, eat these baked beans as a side dish or fill up a big bowl and have it as your main meal.
Ingredients
1-1/2 tablespoon olive oil
1 pound ground turkey
1 onion, chopped
1 green pepper
1 celery stalk
1 large can of pinto beans
Garlic powder
Salt and freshly ground pepper
1 teaspoon sugar
Directions
Put the beans in a large pot and place over medium heat to warm.
In a large sauté pan, heat the olive oil over medium-high heat and brown the ground turkey, about 6 minutes. Add the onion, celery and green peppers and continue to cook until the onions become translucent and soft.
Empty the beans into the sauté pan and mix all of the ingredients together until well blended. Simmer the beans, half-covered, for 25 minutes.
Sprinkle the salt and pepper, garlic powder and sugar into the bean mixture and stir well. Serve hot.