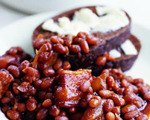 Prep: 10 min
Cook Time: 1 hr
Total: 1 hr 10 min
Serving: 4
Baked beans and bacon is a hearty and satisfying side dish. For a touch of heat, sprinkle a few pinches of red pepper flakes into the mixture prior to cooking.
Ingredients
3 cups canned beans (one 28 ounce can)
1/4 cup ketchup or chili sauce
1/4 cup onion, minced
2 tablespoons molasses
2 tablespoons brown sugar
1 tablespoon cider vinegar
1 tablespoon prepared mustard
2 tablespoons olive oil
6 slices of bacon
Directions
Preheat you oven to 350 degrees Fahrenheit and grease a 9x9-inch baking dish.
Place the beans in the prepared pan and then add the ketchup, onion, molasses, sugar, vinegar, mustard and olive oil. Stir the mixture well to combine and then cover the top with the bacon slices.
Cover the pan with foil and place in the oven for 30 minutes before removing the foil and cooking the beans for an additional 30 minutes. Serve hot.