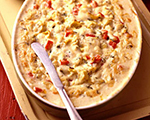 Prep: 20 min
Cook Time: 15 min
Total: 35 min
Serving: 16 servings
Serve this dip, made with artichokes and three different kinds of cheese, straight from the oven with a side of crackers and breadsticks.
Ingredients
1/4 cup butter
1 medium (1/2 cup) onion, coarsely chopped
1 medium (1 cup) red bell pepper, coarsely chopped
1 teaspoon finely chopped fresh garlic
3 tablespoons all-purpose flour
1-1/2 cups milk
1/2 cup freshly grated Parmesan cheese
8 ounces (2 cups) Mozzarella cheese, shredded
1 (3-ounce) package cream cheese
1/2 cup chopped fresh parsley
1/3 cup mayonnaise
1/4 cup lemon juice
1 (14-ounce) can artichoke hearts, drained, cut into 1/2-inch pieces
1 teaspoon freshly grated lemon peel
1/2 teaspoon coarsely ground pepper
Directions
Preheat the oven to 375 degrees.
Place 1 tablespoon of the butter in a medium sauté pan over medium heat. Once the butter begins to sizzle, add the onion, red pepper and garlic and sauté for 2 minutes.
Place the remaining butter in a saucepan and sprinkle in the flour. Cook the mixture over medium heat for 30 seconds, and then slowly whisk in the milk and cook for 4 minutes.
Remove the flour mixture from the heat and stir in the Parmesan cheese, Mozzarella cheese and cream cheese. Once the cheeses have melted, add 1/4 cup of the parsley, mayonnaise, lemon juice, artichoke hearts, lemon peel, pepper and the onion mixture, and gently stir to combine.
Place the mixture into a casserole dish and bake for 25 minutes. Serve hot with the remaining 1/4 cup parsley sprinkled on top.