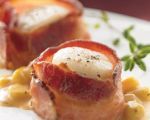 Prep: 10 min
Cook Time: 10 min
Total: 20 min
Serving: Serves 4 people
Bacon Wrapped Scallops with Brown Butter is a simple, elegant and delicious recipe. Serve as a special appetizer or as part of your main dish with steamed asparagus or another fresh vegetable.
Ingredients
12 strips of bacon
12 large scallops
juice of 1 lemon
1 cup unsalted sweet butter
Fresh ground black pepper
2 tablespoons fresh chopped parsley for garnish
Directions
Preheat your broiler. Wrap a strip of bacon around each scallop around the top (not sides) of the scallop.
Cut the butter into large pieces and add it to a saute pan over low heat. Meanwhile, broil the scallops with the bacon facing up. This will help protect the scallop from over cooking. It should only take a few minutes to cook. Once cooked, set aside and keep warm.
Allow the butter to turn a nutty brown color, swirling it occasionally. As it begins to foam and turn dark, take it off the heat and add the lemon juice. Note: When you add the lemon juice it will actively bubbly up and sizzle.
Arrange the scallops on warmed plates and garnish with parsley. Season with pepper and immediately pour the lemon butter on top.