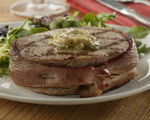 Prep: 15 min
Cook Time: 7 min
Total: 22 min
Serving: 4
This simple recipe is a hearty yet easy to make winter meal. Serve these bacon-wrapped chops with baked potatoes or garlic mashed potatoes, along with a side of steamed vegetables. This pork chop recipe is sponsored by the National Pork Board.
Ingredients
4 (6 ounce) boneless pork loin chops, 1 1/4-inch thick
4 slices thick-cut bacon
Garlic-Mustard Butter
Directions
Dry the chops with paper towels and season generously with salt and pepper. Wrap a strip of bacon around each one, securing with a toothpick. Cook as directly below to medium doneness. Remove toothpick; serve chops with a pat of butter.
Broil: Broil 4 inches from heat source, 6-7 minutes. Turn and continue broiling to desired doneness, approximately 5-6 minutes for medium (160 degrees F.)
Panbroil: Heat grill pan over high heat; add chops, lower heat to medium-high and cook for 6-7 minutes, until nicely browned. Turn and continue cooking for about 5-6 minutes for medium doneness.
Grill: Prepare medium-hot fire in grill; grill chops over direct heat for 6-7 minutes; turn and grill 5-6 minutes more for medium doneness.