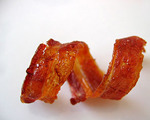 Prep: 5 min
Cook Time: 6 min
Total: 11 min
Serving: 4 Servings
You don't have to add the cooked bacon to the vinaigrette but it does add additional texture and flavor.
Ingredients
4 slices bacon
1/2 cup extra-virgin olive oil
4 tablespoons cider vinegar
2 tablespoon Dijon mustard
4 teaspoons brown sugar
2 teaspoons freshly ground pepper
salt to taste
Directions
Cook the bacon in a skillet over medium-high heat until crispy, and then remove with a slotted spoon and place on a paper towel-lined plate to drain. Crumble once cool enough to handle.
Place the bacon drippings into a bowl with the olive oil, cider vinegar, Dijon mustard, brown sugar, pepper and a pinch of salt. Whisk the mixture vigorously to blend and then serve immediately.