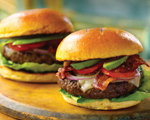 Prep: 25 min
Cook Time: 15 min
Total: 40 min
Serving: 4 Servings
Everyone has heard the famous phrase 'everything is better with bacon," and in this case, it is definitely true. Enjoy these cheese burgers topped with crispy bacon, cool tomato, and creamy avocado.
Ingredients
8 slices of bacon
1 pound ground beef chuck or sirloin
1 teaspoon Worcestershire sauce
1 or 2 dashes Tabasco sauce
1/4 teaspoon dried thyme leaves
Salt and freshly ground black pepper, to taste
4 slices Swiss cheese
4 hamburger buns, toasted, for serving
Thinly sliced ripe tomato, for garnish
Thinly sliced red onion, for garnish
Sliced ripe avocado, for garnish
Lettuce leaves, for garnish
Directions
Ready your grill on medium-high heat.
In a large frying pan, fry bacon for about 6 minutes until lightly crisp. Place on a plate with paper towels to drain and then set aside.
In a large bowl, add the beef, Worcestershire sauce, Tabasco, thyme, salt and pepper. Mix by hand until ingredients are well incorporated and then form beef mixture into 4 patties.
Place the burgers on the grill and cook for about 4 minutes per side, flipping once, for medium rare.
Place the burgers on the toasted buns and immediately top with cheese. Next layer the burger with the bacon, tomato, onion, avocado and lettuce. Serve at once with some chips and a bread and butter pickle spear.