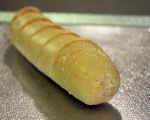 Prep: 20 min
Cook Time: 20 min
Total: 40 min
Serving: 12 servings
A simple way to dress up a french bread loaf for dinner.
Ingredients
1 (16 ounce) loaf unsliced French bread
5 slices bacon, cooked and crumbled
1 (8 ounce) package shredded mozzarella cheese
1/2 cup butter, melted
Directions
Preheat the oven to 350 degrees Fahrenheit. Cut the loaf into 1-inch slices, careful not to cut all the way through to the bottom. Place on a piece of foil.
Mix together the bacon and cheese and sprinkle between the slices. Pour the butter over the top of the loaf, allowing some to get between the slices.
Tightly wrap the foil around the loaf. Bake for 20 minutes. Serve hot.