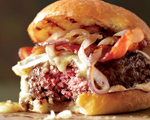 Prep: 15 min
Cook Time: 35 min
Total: 50 min
Serving: 8 servings
Brioche bread is a type of French bread with a high egg and butter content. As a result, it has a rich taste and tender texture that is truly delicious. Enjoy topped with these bacon burgers and roasted onions.
Ingredients
2 medium red onions, thinly sliced
6 tablespoons extra-virgin olive oil, plus more for brushing
Salt and freshly ground pepper
8 slices of thick-cut bacon, 12 ounces
3 pounds mixed ground chuck and ground sirloin
12 ounces brie, sliced
8 brioche burger buns, split
Directions
Preheat your oven to 400 degrees.
Place the onions on a baking sheet, drizzle with 2 tablespoons of olive oil and roast for 20 minutes.
In the meantime, place the bacon in a skillet over medium-high heat and cook until crisp. Transfer to a plate lined with paper towels and then cut each slice in half once cool enough to handle.
Prepare a gill on medium heat.
Sprinkle the ground beef with salt and pepper and form into 8 patties. Place the patties onto the grill and cook for 5 minutes; flip the burgers, top with the brie and cook for an additional 5 minutes.
Place the cooked burgers onto the buns and then top with the bacon and the roasted onions. Serve immediately.