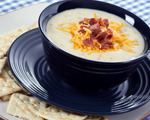 Prep: 10 min
Cook Time: 25 min
Total: 35 min
Serving: 4 Servings
Creamy and mild potatoes create the perfect backdrop for this comforting soup flavored with crispy, crumbled bacon.
Ingredients
6 slices bacon
1/2 cup chopped onions
1/2 cup chopped carrots
1 stalk celery, chopped
4 cups low-fat chicken broth
4 cups potatoes, cubed
1/8 teaspoon cayenne pepper, or to taste
1/2 cup grated cheddar cheese
Salt and freshly ground pepper to taste
Directions
Cook the bacon in a soup pot over medium heat until crispy. Using a slotted spoon, transfer the bacon to a paper towel-lined plate and crumble once cool enough to handle.
Add the onions, carrots and celery to the pot with the bacon fat and sauté over medium heat for 3 minutes before adding the chicken broth, potatoes, cayenne pepper and a few pinches of salt and pepper to taste. Bring the mixture to a boil.
Once boiling, reduce the heat to medium-low and simmer the soup for 15 minutes. Stir in the cheese and the crumbled bacon and gently heat the mixture until the cheese has completely melted. Serve hot.