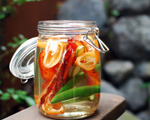 Prep: 5 min
Cook Time: 5 min
Total: 10 min
Serving: Makes 750 ml
Infusing vodka with bacon and chile peppers gives it amazing smoky and spicy flavor. Enjoy the infused vodka mixed in a cocktail or served alone over ice.
Ingredients
6 strips of bacon
3 habanero chile peppers
2 serrano chile peppers
1 (750 ml) bottle good quality vodka
Directions
Cook the bacon in a large skillet over medium-low heat until crisp, and then transfer to a paper towel to drain.
Remove the stems from all of the peppers and then slice, lengthwise, into strips. Transfer to a jar along with the bacon and the vodka.
Seal the jar and then place the mixture in the refrigerator for 7 days to allow the flavors to infuse before removing and straining through a fine mesh. Store the vodka in the refrigerator until ready to use.