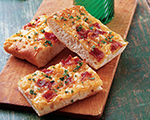 Prep: 1 hr 10 min
Cook Time: 20 min
Total: 1 hr 30 min
Serving: 20 servings
Use frozen bread dough to make this kid-approved delicious snack.
Ingredients
1 (1-pound) loaf frozen white bread dough, thawed according to package directions
2 tablespoons butter, melted
1/2 teaspoon onion salt
1 (8-ounce) package (2 cups) cheddar cheese, shredded
5 slices (1/3 cup) crisply cooked bacon, crumbled
2 tablespoons chopped fresh parsley
Directions
Roll the dough out and place onto a large greased baking sheet.
Place the butter and onion salt in a small bowl and stir to combine.
Brush the dough with the butter mixture and then cover the dough and place in a warm area until dough doubles in size.
Preheat the oven to 375.
Carefully prick the dough allover with the tip of a knife and then evenly top with the cheese and the bacon.
Bake the dough for 20 minutes, sprinkle with parsley and allow to cool for 10 minutes before cutting.